Our Heritage
People are the foundation of an organization.  On this page we pay tribute to two individuals who helped build the Alaskan Aviation Safety Foundation and tirelessly promoted aviation safety throughout Alaska:
---
Tom Wardleigh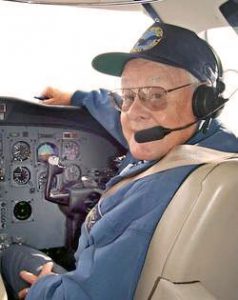 Tom Wardleigh began his aviation career as an apprentice mechanic in Seattle at Pan American Airlines.  During WWII he became an aviation machinist mate in the U.S. Navy, and after the war he attended the University of Washington as an undergraduate.  It was after this that he became fully involved in aviation at Kenmore Air Harbor in Seattle.
Tom came to Alaska in the early 1950s and worked at the Anchorage Aviation Division of the U.S. Fish and Wildlife Service for several years before going to work at the Alaska Civil Aviation Agency (now FAA).  A progression of appointments and experience in many types of aircraft, ranging up to small jets, contributed to his record of over 33,000 flight hours.
Tom was in great demand as an advanced instructor and he was recognized as one of the few multi-engine sea instructors (Grumman Goose in particular).  He played a major role in bringing the AASF to its current recognition as an outstanding aviation safety organization.  Tom was the first pilot to receive the FAA's Master Pilot Award, honoring more than fifty years of dedicated service to aviation safety in Alaska.  Tom also received one of the most significant awards in U.S. Civil Aviation, the FAA's Award for Distinguished Service.
---
Ginny Hyatt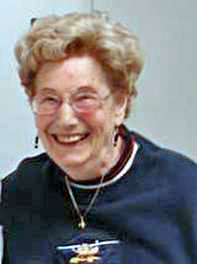 Virginia Ruth "Ginny" Brown Hyatt, an Alaskan since 1965, was a well-known pilot and advocate for aviation flight safety throughout the state. During her long career in Alaska's aviation field, she worked in the aviation and safety departments of the U.S. Fish and Wildlife Service and was later Secretary and Board Member of the Alaska Aviation Safety Foundation.
In her work at the Foundation, Ginny co-hosted "Hangar Flying," a weekly public broadcast television program devoted to aviation in Alaska, with friend Tom Wardleigh, for over a decade.
Through her work as a pilot, Ginny became good friends with many Alaskan aviators throughout the state. Her quick wit and dry sense of humor will be deeply missed by her family and dear friends.
Born June 15, 1924, in Terre Haute, Indiana, Ginny began her flying career early. She took her first flying lesson at age 16 and obtained her pilot's license in 1943.
She worked several jobs in her young life including a position as a secretary for the Civil Aeronautics Administration, a precursor to the Federal Aviation Administration.
She married John "Bud" Hyatt in 1949 and his career with the Navy took her and their three sons to several states and countries around the world, including Germany, Antigua of the British West Indies, Louisiana, Virginia and finally back to Indiana where she spent several years raising the boys on their farm before her husband retired.
In 1965, the family moved from Indiana to Annette Island, Alaska. Here, her husband worked with the FAA and, Ginny worked for the Coast Guard PX and as manager of a two-lane bowling alley housed in a Quonset hut.
The family moved to Bethel in 1969, where they were partners in a bush-plane leasing business and Bud continued his second career with the FAA. Ginny resumed her flying and started her career with the U.S Fish and Wildlife Service.
In 1974, Ginny took a position with U.S. Fish and Wildlife Service in Anchorage, where she lived out the remainder of her life. She lived in her beloved condo on Lake Hood, where the sound of airplanes taking off and landing was her soundtrack.
Her work with the Alaska Aviation Safety Foundation began after her retirement from U.S Fish and Wildlife Service. She worked formally for the safety foundation until retirement, and she continued to be involved informally with the group. A scholarship in her name is now awarded annually.
Decades of work to educate pilots and improve flight safety in Alaska is her legacy. Her membership in the Aircraft Owners and Pilots Association since 1945 and the International 99s since 1948 is a testament to her lifelong devotion to the industry and joy of flying.
*Anyone wishing to make donations to the Virginia Hyatt Memorial Scholarship Fund, please send a check payable to the Alaskan Aviation Safety Foundation, with a note in the memo section stating "Virginia Hyatt Memorial Scholarship Fund." These checks may be sent to:
                                        Alaskan Aviation Safety Foundation
                                        C/O Aviation Technology Division-UAA
                                        2811 Merrill Field Dr.
                                        Anchorage, AK 99501